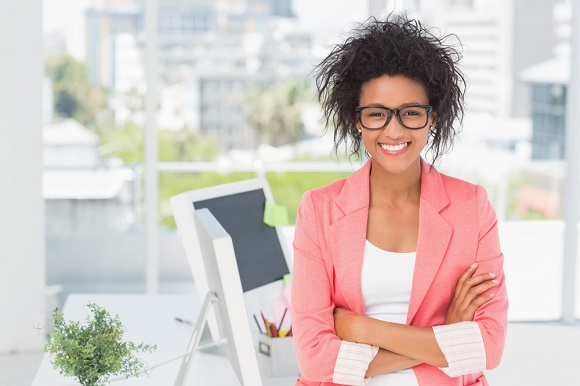 Working at a standing desk as opposed to sitting in your chair provides numerous health benefits:
Standing burns 40 to 45 more calories per hour than sitting
Standing decreases your chances of contracting heart disease, cancer and diabetes compared to sitting
Standing can reduce your risk of dying within the next 3 years by 40% (when people who routinely spend 11 hours or more a day trim that number to 3 hours daily)
You lose approximately 8 pounds of fat every year that you stand 3 hours a day, 5 days a week at work
Provided below is a review of the top 5 standing desks available for purchase online. Price, features, verified customer reviews and other information was taken into account to help you make an informed decision so you can purchase the perfect standup desk for your particular situation.
Hundreds of dollars less than most standing desks
Functions as a bed tray, tabletop standup desk and has many other uses
Ultralight aluminum alloy is super strong
Built-in fans help cool your laptop
3 separate adjustments provide the perfect working angle every time
Aside from having possibly the longest product name of any standing desk, the iCraze adjustable tabletop product is consistently the bestseller in the Office Computer Desks category at Amazon. That is pretty impressive, since it includes both traditional and standup desks. Price wise, this purchase is extremely attractive. Since this is a 4.5 pound tabletop standing desk, it is also extremely portable, unlike standalone standup desks.
Adjusts from 29 to 47.5 inches in height
2 tier shelf design
3″ furniture casters make moving easy
Smooth hand crank raises and lowers desk with your equipment in place
A full 5 feet wide
This product functions as both a sitting and standing desk. It is available with black or dark walnut shelves and a silver frame. Offered by the Stand Up Desk Store on Amazon, the 60″ crank-powered adjustable height sit to stand desk boasts an attractive mid-level price tag. It also includes a top shelf (14 inches deep) and a lower shelf (16 inches deep). Nearly 4 inches of separation between those 2 levels allows for a convenient 2-tiered system that places your monitor/keyboard relationship at the perfect viewing to working ratio every time.
Large surface area – 24 inches wide by 20 inches deep
Totally height adjustable for perfect positioning
Extremely lightweight and portable
Non-skid, non-marring rubber feet
Available in large and super-large models as well
This Stand Steady Original tabletop standing desk is available in your choice of black, cherry or American maple finishes. The Washington Post calls it "the perfect first standing desk". Your height is adjustable from 11.25 to 15.25 inches, and assembly takes only about 5 minutes. The unique design allows room for a printer, copier or fax machine under the desk surface, freeing up valuable desk space. A low end price tag makes this tabletop standing desk affordable for most every budget.
Display level and keyboard deck raise and lower in unison
A full 36 inches wide and 29.75 inches deep
Fully assembled out of the box
Lightweight and portable
Moves from sitting to standing desk in 3 seconds
The Pro Plus sit to stand desktop keyboard and monitor work station from VARIDESK offers a mid-level price tag with a lot of nice features. With room for a laptop, display and keyboard, you can set up multiple work station scenarios. The unique and patented 2 handle adjustment system means going from sitting to standing in seconds, without removing your equipment. That large 3 feet wide top level is big enough for two 24 inch monitors, and you enjoy multiple heights from the sitting position on up to 17.625 inches high.
Adjustable heights offered in 1 inch increments
100 pound desk level weight capacity, 25 pounds for keyboard level
Height adjustable from 35 to 49 inches
Dual accessory shelves for hard drive, printer, fax machine and copier
Accessory shelves offer a 50 lb weight capacity each
Safco Products has created one of the bestselling adjustable height work stations in the entire standing desk marketplace. You get 15 different secure height levels, meaning the perfect height for everyone. Sitting and standing are both supported, and unlike many sit to stand desks, this space saving model still has room for you printer, copier and/or fax machine. This mid-level priced standing desk is mobile, thanks to 4 durable casters. Your keyboard level is retractable when not in use, and you have a choice of cherry, medium oak or gray finishes.