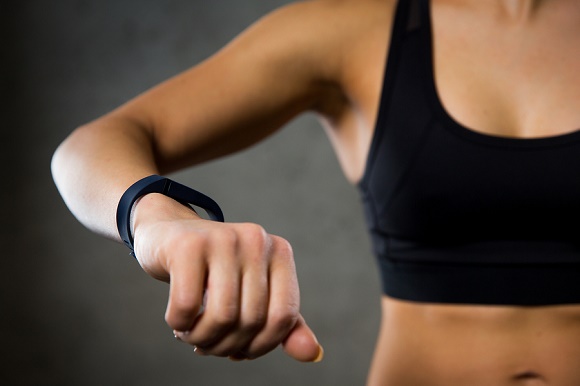 Activity trackers are a subsection of the health wearables marketplace. Popular because they help you monitor important physical metrics like your heart rate and calories burned, they have in recent years become very affordable. FitBit and Garmin are two well-known companies that manufacture fitness and activity trackers. And their products consistently rank as the bestselling fitness trackers online.
As the largest retailer in the world, Amazon is a great place to go for product reviews and information. You can see exactly what previous purchasers list as the pros and cons of any item you are thinking about purchasing. The following 5 products offer something for everyone, and can be found at the top of Amazon's Fitness Trackers Bestseller list.
(For a quick feature comparison of the top fitness and activity trackers, check out the handy feature table below.)
With a 4.2 / 5.0 customer satisfaction rating on Amazon, the FitBit Zip is a popular bestseller. It routinely ranks in Amazon's Top 25 list of both the Pedometers and Fitness and Activity Monitors categories. If you are looking for the smallest physical footprint and a budget friendly price tag, this steps, calories and distance tracker makes a perfect choice. You have your choice of magenta, lime, charcoal or blue colors, and it syncs automatically to most personal computers, tablets, and smartphones.
Free Android and iPhone applications are included, and you simply clip the tiny Zip onto your pocket, belt or clothing and get moving. The Fitbit Zip does the rest. Sweat, rain and splash-proof, this compact tracker allows you to access your fitness information on your PC or tablet, and supports all of the popular fitness applications like SparkPeople, Lose It!, MyFitnessPal, and MapMyFitness.
Offered in black or burgundy, the Fitbit One Wireless Activity Plus Sleep Tracker does everything that its sibling Zip can do. But you get the added benefits of sleep monitoring, a silent alarm, and the ability to track how many stairs and floors you climb. The silent alarm comes in handy at work, home and on the go, anytime you need access to an alarm without disturbing someone else. The FitBit One is just a little taller and slimmer than the Zip, delivering information wirelessly via Bluetooth 4.0 technology.
It is also sweat, rain and splash-proof, Android and iPhone applications are provided, and access to FitBit's social sharing website for logging food, weight and other information is supported. The FitBit One carries a 4.4 / 5.0 Amazon customer satisfaction rating, and is a Top 10 Bestseller in the Fitness Technology and Health Monitors categories.
This attractively priced fitness tracker consistently ranks as the single bestselling product in the entire Health and Personal Care category on Amazon. Due to the number of health tracking features you get for such a budget friendly price tag, the Fitbit Flex can frequently be found as the #1 bestseller in the Sports and Outdoors Wristband as well as Fitness Tracker categories on Amazon.
It also frequently outsells every other pedometer in the Health and Personal Care Category at the online retail giant. It does not have the clock that the Zip and One offer, but it does keep track of your active minutes. It also tracks sleep quality, offers a silent alarm and delivers the other features of the previous FitBit trackers we just reviewed.
The FitBit Charge is consistently ranked as a Top 5 fitness tracker on Amazon, and it earns that lofty praise. It offers all of the features of the Zip, One and Flex, and is presented in an attractive wrist-wearing design. Bluetooth 4.0 support is on board, and you can track and then share your achievements with others on the FitBit website. And 2 attractive features have been added, caller ID and notifications.
This is the most inexpensively priced FitBit activity tracker which notifies you when someone calls your smartphone. Caller ID is supported on the large wristband display, and your active minutes are recorded. Those 2 features are not available on the Zip or One fitness trackers.
Garmin is known for their GPS tracking devices, but they also make one of the bestselling fitness bands. This activity tracker can be purchased with or without a heart rate monitor, and includes a unique Move Bar that displays in red after you have been inactive for one hour. Offered in your choice of 6 different colors, it counts calories and records how many you burn throughout the day. The display is one of the largest of any wristband-style activity and fitness tracker, and a clock is included.
At Garmin Connect you can share your results and accomplishments with friends and other Vivofit users. Sweat, water, rain, and shower proof, this is a true 24/7 wearable fitness tracker. Bluetooth 4.0 technology is supported, as are iOS and Android smartphones and tablets. The Vivofit Fitness Band is also one of the Top 10 bestselling fitness trackers on Amazon.