Working out when you are a mom can be a challenge, so choosing to exercise at home may be one way to make this fit well into your daily life. You may decide that you want to use fitness equipment, so here are some popular choices on the market. For more information about a particular trainer, click on the blue heading which will then take you to the individual post of that product.
The Stamina Ab/Hyper Bench Pro is a thickly padded bench which has durable stitched vinyl fabric. This machine has adjustable thigh support, allowing you to change it to ensure that it is comfortable. The hand grips are also extended from the body of the bench, which makes them easier to reach, and it also has a non-slip footrest to ensure safety. The bench is also equipped with pivoting foam rollers which will hold your legs in place when doing hyperextension exercises, and when doing crunches. The bench frame is made from heavy-duty two-inch steel, and has rubber caps below to protect the floor. The footrest, backrest and thigh support are all fully adjustable to accommodate for different heights and workout intensities. Customers have stated that they have been happy with the sturdiness of the bench, and how easy it is to fold up and store when it is not in use. One of the downfalls is that some of the pins used to adjust the height may be a little too short and tend to wriggle lose.
This exercise bike is designed to be compact which is great for working out at home. All you have to do is fold it up and store it somewhere once you have finished exercising. This bike has many key features that make it a popular choice on the market. The bike has been designed in a way that makes it very simple and easy to use, which is perfect for moms on the go who are looking to fit in a quick workout. It is also very comfortable as it has a large seat which is cushioned, and the bike can also be easily adjusted to suit different heights. The bike has a crank system, which ensures that you experience a smooth workout as it allows smooth and easy pedaling motions. The bike also has leg stabilizers to prevent tipping from excessive movement while in use, and it is safe to use with the foot straps on the pedals. It has a tension resistance control system which can be used to make easier and more difficult workouts, depending on what you want from your workout. You can also monitor you heart rate, calories burned, distance, speed and time on the LCD display, which has a large size so it is easy to read while you are exercising. Many people were happy with the assembly and the operation of the machine, but had some issues with the electronics, as they seemed to be more of an afterthought.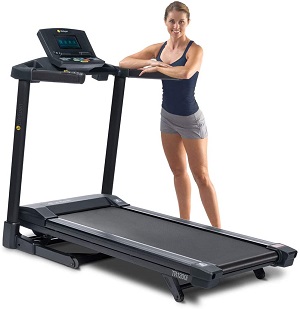 The treadmill has been designed to make working out safe and convenient. It has handlebar controls that will let you decide the speed and incline without having to take your hands off the handlebars. This is great because you don't have to worry about losing your concentration or balance while adjusting your routine. Power is also important, and it has a 2.5 horsepower motor, so it is strong and durable. It has 2.5 inch front rollers, and the running surface is 20" by 56", and can support up to 300 pounds.
This treadmill will also help you track your performance and progress which will be saved and you can then choose to upload this information to your online LifeSpan Fitness Club account. This account also gives you access to exercise routines and programs and offers results reports based on your exercise and health. It comes with a multicolored LCD console which you can use to track your time, distance, calories, steps, pulse and more. It also offers readouts of exercise programs which you can use to help you achieve your health and fitness goals. It also has large, soft-touch keys which you can use to get started and control your workout. Each of the workout plans that you can access has been designed by exercise physiologists to ensure a safe workout and will help keep you motivated.
Other features include a built-in headphone jack where you can also connect your iPod, a step-counting feature which works as a pedometer to keep track of your steps and distance, and 15 different incline levels. Pros that have been mentioned about this treadmill include how quiet it is and that each workout session can be tracked, where some of the cons are that there have been squeaking issues and that it has been known to cut off while in use.
The Exerpeutic 400XL is a comfortable and convenient exercise bike. It is a recumbent exercise bike, which means gives additional support to your lower back and has been designed in a way which makes it easy to get on and off. Unlike many other recumbent exercise bikes, the Exerpeutic is easy to store when not in use as it is foldable and compact. You will be able to easily  fold it up and store it in a closet  or under a bed when you are done. It has a large, cushioned seat and also has a backrest which ensures minimal impact and strain on your lower back. The LCD display is used to monitor your time, speed, distance, heart rate and calories burned. It is easily customized as the flywheel has many different tension levels to give you a workout that matches your ability. The pedals have straps so that your feet don't slip which also minimises the pressure on your joints. Many people have been pleased with how easy this bike is to assemble and how easy it is to use, while others say that it can be a little awkward to pack up and move around when it is not in use.
By minimizing stress on joints and being ergonomically designed, this bike is perfect for those who are looking for comfort, or are using it for therapeutic reasons. The slanted pedals maximize comfort on the legs and ankles and the cushy seat and backrest reduce pressure on your body. This bike has a number of different programs, and the ability to monitor your heart rate and progress. You can monitor your heart rate by using the pulse grips on the handle bars, or by using the chest strap that is included. The pedals are oversized, which make working out easier on your feet, and have ECB resistance to reduce impact when stopping. It also comes with MP3 compatibility, water holders and a fan.
This exercise chair is mainly used to work out and tone your lower back and abdominal muscles. It is durable as it has a powder-coated finish. It is also padded with high-density foam and has vinyl upholstery. It has been designed in a way that allows you to do strength exercises off of the floor. It strengthens your core abdominal and your back muscles. While exercising, your legs are held in place with the padded ankle supports, and by doing this you can hyperextend your abs to work out more muscle groups, meaning a more challenging and efficient workout.