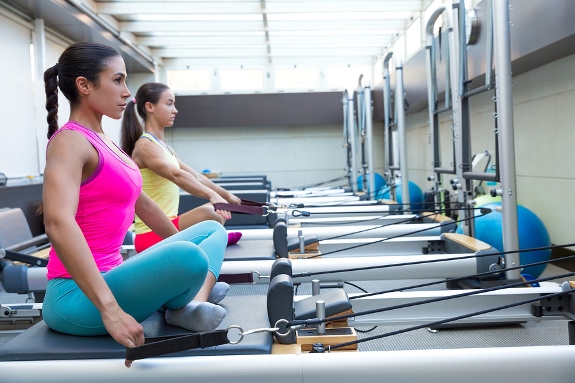 Pilates is attractive to so many, because it allows you to improve your strength, flexibility and lean muscle tone. It can also be performed in the comfort and privacy of your home home on an exercise mat. But many, especially beginners, find it very difficult to achieve perfect Pilates form and muscle control on a mat. That is what Pilates reformers are for. They properly train your body's powerhouse, your hips, buttocks, abdomen and lower back, which are central to the Pilates physical fitness regimen. Below we compare and contrast the top 5 Pilates reformers found on Amazon.
Consistently one of the bestselling Pilates reformers on all of Amazon, this is also one of the most affordable. If you have limited space, this compact, fold-up piece of exercise equipment is perfect. It contains a steel frame and vinyl upholstery, and 6 skid-proof supports. Offering a full range of motion, your strength, flexibility and cardiovascular health all benefit.
The manufacturer offers a 3 year warranty on the frame and 90 days on parts. Amazon customers have given the Stamina AeroPilates Performer 286 without Rebounder an excellent customer satisfaction rating of 4.8 out of a possible 5.0.
With a customer satisfaction rating from previous purchasers of 4.7 out of 5.0 stars on Amazon, this Pilates reformer bundle up is highly rated for a lot of reasons. It also requires a healthy investment. But it includes extras like a 97 inch long carriage, 2 work out DVDs, extra-thick foam cushioning and 5 reformer springs for variable levels of resistance. 4 reformer springs provide 100% tension, and 1 is set at 50% tension.
More than 250 Pilates exercises can be performed with the Stott Pilates At Home SPX Reformer Bundle. Extras include double loop straps, a foot strap, a metal rollup pole and an Easy Start poster guide. A lifetime warranty is included on the frame and aluminum rails, and there is a 90 day limited warranty on the upholstery. A 1 year warranty covers the ropes and straps, while there is a 2 year limited warranty on all other reformer components.
Stamina Products Stamina AeroPilates PRO 556 Reformer with Box and Pole
This reformer allows you to perform more than 100 different Pilates exercise. With an qak wood and heavy-duty steel frame, free-form rebounder and 4 different resistance level settings, you get a lot of high-end features. The Stamina Products Stamina AeroPilates PRO 556 currently carries a perfect customer satisfaction rating of 5.0 on Amazon.
Using a unique cardio attachment which works like a trampoline, this Pilates reformer helps you efficiently increase stamina and energy while burning fat. An extendable pole is included, and this helps you properly concentrate on one-leg exercises without sacrificing your balance. A manufacturer's warranty includes repair or replacement of any parts that fail.
This simple and budget-friendly Pilates reformer uses resistance bands to get the job done. Because of this, it is hundreds, and in some cases even thousands of dollars less expensive than typical metal-framed reformers. Including a full-length 45 minute reformer workout DVD, the Gaiam Coreplus Reformer is basically a heavy duty resistance band with 4 loops and cushioned grips.
It is definitely not going to allow you to perfect your form and muscle control like an expensive or traditional reformer will. But it bears the blessing of Mari Winsor of Winsor Pilates, who walks you through the full-length program on the easy-to-follow DVD. Consistently one of the bestselling reformers on all of Amazon, and far away the least expensive investment out of that bestselling group.
With a 4.0 / 5.0 customer satisfaction rating, this product is one of the more affordable and bestselling reformers you will find on Amazon, or anywhere else online for that matter. Extras like a padded adjustable headrest and comfortable hand and feet straps are nice features accompanied by an attractive price tag.
You simply fold it up and wheel it away for easy portability and storage, and rope length adjustments are quick and easy. As with all of their Pilates products, the Stamina company stands behind the AeroPilates 266 with a warranty which will replace or repair any parts that fail.
Wrap-Up
If you are looking for an efficient high-end Pilates reformer, the Stott Pilates At Home SPX Reformer Bundle is a very nice piece of equipment. It contains some features simply not found in less expensive reformers. At the other end of the spectrum, those new to Pilates might want to try the Gaiam Coreplus Reformer.
This allows a minimal investment of around $30, so you can see if Pilates is right for you before you pay for a more expensive machine. Whichever way you go, all of the bestselling Pilates reformers we just reviewed will help you improve your flexibility and muscle tone, while burning fat and producing a powerful core.