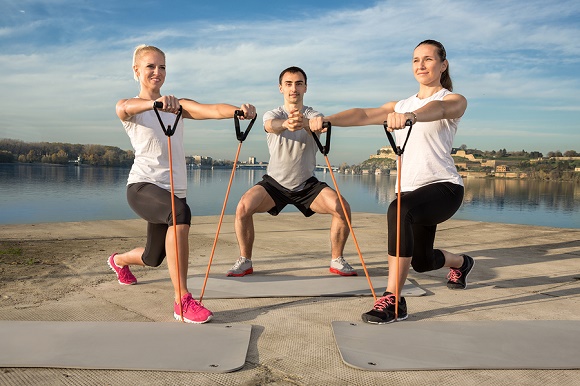 Exercise bands are sometimes the most neglected tool in an exerciser's arsenal. People are very quick to ensure they have a huge selection of weights for use at home, but resistance bands are all too often ignored. This is a huge oversight, as resistance bands are a tremendous way of building up core strength and implementing whole body exercises. The other obvious benefit is how convenient they are! Don't have time to hit the weights at home? You can easily bring your resistance bands with you wherever you go. That being said, there are some resistance and exercise bands which aren't worth the rubber they're made of. With that in mind, let's take a look at 5 of the leading exercise bands in the market today.
Made from natural latex to ensure durability, the Black Mountain Products Resistance Band Set is a comprehensive collection of resistance training equipment. It includes 5 resistance bands, starting at a resistance of 2 – 4 lbs and going up to 25 – 30 lbs. Additionally, the set includes a carrying bag, an ankle strap, a door anchor and a starter guide. All of the bands are 48" in length, and are covered by a 90-day manufacturer's warranty. This set comes in under $40.
This is a reasonable price for what is a very good and reputable set of resistance bands. Long lasting, durable, and with enough range to cover most needs, the Black Mountain Products Resistance Band Set is a fine choice for beginners and experienced exercisers alike.
AmazonBasics Resistance Band Set
Made from high-quality rubber with cushioned foam handles, the AmazonBasics Resistance Band Set is extremely affordable, coming in around the $20 mark. Included in the set are 5 resistance bands with resistances varying from 2 – 4 lbs up to 25 – 30 lbs. Each band is approx. 51.5 inches in length, and 64 inches with handles attached. That makes them surprisingly long and somewhat unsuitable for shorter individuals as they cannot be shortened. The set also includes ankle straps, a door anchor, and a carrying case. Comes with a 1 year limited warranty.
While the AmazonBasics Resistance Band Set is extremely affordable, it won't suit many users. As a beginner's set, this is absolutely fine, but only if that beginner is over 6 foot. Any shorter and you might struggle to get the most out of these bands.
The Gwee Gym Total Body Workout Kit is an innovative resistance band device designed for use throughout your workout. The device is connected by wires on a pulley, and other attachments are available for more traditional resistance band exercises. However, while the idea is good, the execution here is rather poor. The Gwee Gym does not allow the resistance level to be altered and is set at 1.5 lbs. For stronger users, it is recommended that you increase the number of reps. While this may be of some use to specific situations or those recovering from an injury, it goes against the principle of a resistance band. Avoid unless specifically recommended by a physio.
The BalanceFrom Heavy Duty Premium Resistance Band Kit is available in two sizes, either a ten piece set or a sixteen piece set. The difference between the two is not additional accessories, but duplicates of some of the bands and anchors. The ten piece set includes 5 resistance bands from 2 – 4 lbs up to 25 – 30 lbs. It also includes an ankle strap, a door anchor and a metal clipping system that allows bands to be securely attached to each other. Band length is 40" and the set comes with a 2-year warranty.
Those looking for a bargain should look no further. BalanceFrom has put together a superb kit here, and at less than $20 it's an absolute steal. Those exercising for competitive reasons may wish to invest in something more heavy duty, but for anyone else this is an extremely affordable kit.
The DynaPro Direct Exercise Resistance Bands are different from the others on this list – these are gym-quality resistance bands. Bands can be bought individually or as a set of 3, and resistance levels range from 5 – 10 lbs up to 35 – 50 lbs. With extremely comfortable handles and an incredible design that allows users to alter the length of the band to their need, this really is like being at the gym. 30-day money back guarantee, 1-year warranty.
The DynaPro Direct Exercise Resistance Bands will cost more than the others on this list, but that's because they are of a different, higher quality.
Conclusion
Those starting out who haven't used resistance bands before should consider either the Black Mountain Kit or the BalanceFrom Heavy Duty Premium Kit. There isn't a huge difference in quality between the two, so there is no reason not to go for the more affordable option in BalanceFrom. These bands will give you good quality for a fair price. However, those looking for a more professional resistance band need look at nothing but the DynaPro Direct Exercise Resistance Bands. Quite simply, these are a cut above the rest, and for many will be worth the extra cost.