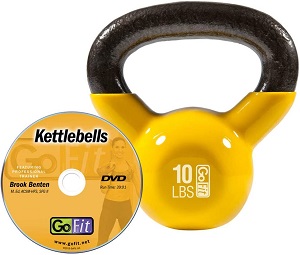 Break a serious sweat and exercise in half the time of traditional training, producing twice the results with GoFit Kettlebells. Get transformed into a lean, strong, fat-burning machine. Look and feel your best as you develop functional strength to power up your heart for boundless energy and challenge your body from all angles.
Available Weights: 7, 10, 15, 20, 25, 35 & 45 lbs.

Coated Texture for Easy, Comfortable Gripping
Non-slip grip for complete control. Durable rubberized coating is color-coded by weight and easy on your wood or smooth surfaces.
Challenge Your Body from All Angles
GoFit Kettlebells, the dynamic training tool that delivers an intense workout that can be done in half the time of a traditional workout, while producing twice the results.
Ideal for Any Age or Gender
The wide range of weights is ideal for anyone wanting to improve fitness.
Improve Your Form & Posture
Kettlebell training is a very effective way to help you achieve your goals.
Training DVD Included
We have a Included a complimentary training DVD with Brook Benton.
.