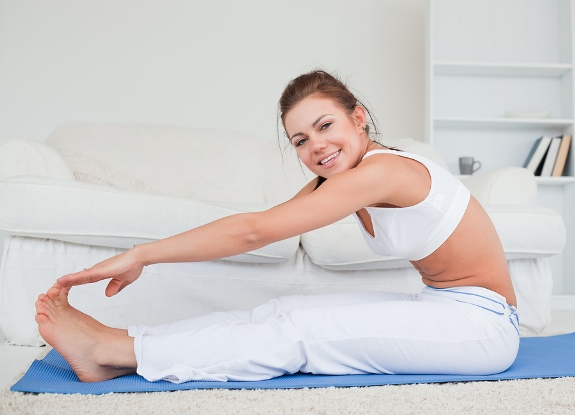 Yoga has been proven to reduce stress, help relieve lower back pain, increase longevity and deliver a host of other positive and beneficial health attributes. And you may want to get started practicing yoga at home, versus in an organized class. There could be many reasons for this.
The available yoga classes offered in your town may be far away from your home, or you might have young ones to tend to. Maybe you just prefer to exercise alone, or feel sensitive about your body weight or shape, and would like to get started on your own at first. Whatever your reasons for learning and practicing yoga at home, there are a few things you need to know.
First off, practicing yoga at home as opposed to some other exercise has never been easier. A home practice of yoga requires a sticky mat and you as a basic beginning. You can always purchase two blocks and a strap for modifications, and perhaps in the future purchase a yoga blanket.
Even if you buy all of those items, as well as a meditation cushion, the physical space you need and the financial outlay you incur to practice yoga at home are both minimal. And classes offered outside your home can be costly.
Remember that when learning yoga at home, you will have to be your own strict teacher. Regular classes are attended at a particular time, and you should probably set up a space and time which is dedicated to yoga in your home. Make sure your yoga space is uncluttered and serene, and one tip here is to add images and objects that create a sense of peace and tranquility.
Since there are literally hundreds of forms and modifications of this ancient spiritual practice, choose a yoga style which fits you best, and stick to it. Beginners can start off with forms like Iyengar or Kripalu yoga, which help you learn proper positioning.
While learning yoga at home can save on financial and time investments, you can get great training in a class. That means that if you want to practice at home you may want to contact a yoga teacher or instructor to ensure your efforts are correct, so that you can receive maximum benefits.
After a time you can then begin to develop your own personal practice privately at home. And if no instructor is available, the beauty of the Internet provides helpful yoga DVD courses, books and even yoga flash cards which you can purchase and have delivered to your front door.
What if you find certain aspects of both home practice and out-of-the-home structured classes attractive? Then you may want to look into joining an online yoga club. This gives you access to podcasts, user guides and video direction from trained yoga masters, available in your particular time frame, and in the privacy of your home. And there are smartphone applications which allow you to complement your at-home yoga practice with on the go, anywhere availability.
Whether learning yoga at home versus in a structured class setting, you can access the many mind and body benefits this simple, spiritual and physical exercise delivers.