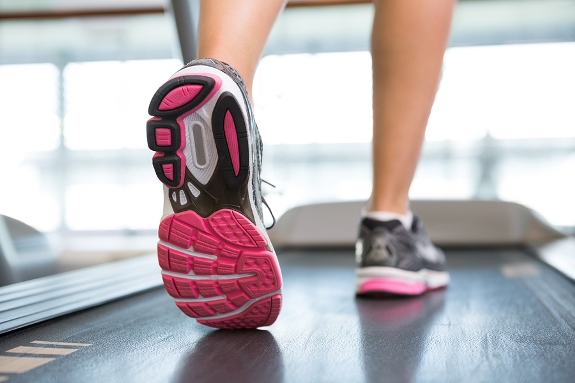 If you're trying to lose weight and get in shape you may be considering buying a treadmill. There are certainly many advantages to buying one. There are a few surprising disadvantages too. Before you spend your money, compare the pros and cons of buying a treadmill. Make the right decision for you and your needs.
Pros of Buying a Treadmill
Convenience
It's no surprise that one of the biggest benefits of buying a treadmill is convenience. There are treadmills that are so compact you can store them under your bed. Instead of trying to fit your work out around your gym's hours and your schedule, you can work out whenever it's convenient for you. Weather is never a factor. You can always count on good weather inside your home. And you don't have to drive anywhere to get your workout in.
Economics
Let's not forget that while treadmills can be expensive, they don't have to be. And even if you buy a top of the line professional treadmill, it's often less than an annual gym membership.
Low Stress
Sometimes working out on a treadmill in a gym can be stressful. You may have to wait for a machine. You may feel rushed because others are waiting for your machine. You may feel like you're on display. And the additional noise and music may be too much.
Entertainment & Productivity
When you buy a treadmill and put it in your home you can listen to whatever music you want to listen to. You can also watch television, talk to your family members, and read or catch up on work while on your treadmill.
The Cons of Buying a Treadmill
Form and Function
You might be surprised to learn that most people run quite differently on a treadmill than they do on a trail, track, or sidewalk. If you're training for an event, like a 5k, you may want to stay off the treadmill.
Boredom
It's important to note that running on a treadmill day after day can become boring. Even if you're listening to your favorite music or watching your favorite show, it's easy to get into a rut. If you're motivated and able to create and stick to a treadmill fitness program boredom may not be a factor. However, if you like variety then running outside may be more interesting.
Maintenance
Treadmills are machines. They need routine maintenance and cleaning. Running outside or on a track doesn't require anything from you. You simply tie your shoes and go.
Cost
Finally, there's the initial financial output. Treadmills can be expensive. If you don't have room in your budget for a treadmill then running outside is certainly less expensive.
When you're considering buying a treadmill it makes sense to weigh both sides. Identify your goals for running and your fitness personality. Treadmills make great sense for many people. Is a treadmill right for you?