Accessories
Review
For balance and mobility while you hike, trekking poles can't be beat. They are also very versatile for hikers and campers, perfect for a number of "non walking" uses in the great outdoors. PaceMaker Stix has designed its Flip Lock "Expedition" Trekking Poles with some nice features that make them a handy hiking addition, so let's hit the trail and give this hiking companion a thorough review.

Pace Maker Flip Lock "Expedition" Trekking Poles Features and Specs
Adjustable telescoping feature
"Sure grip" rubber feet
Rugged tungsten tips
Includes 1 year warranty
Made of lightweight, durable, aircraft grade aluminum
Review
The folks over at Standee are on a mission to change the way we live our day to day lives. According to them, we are in the middle of an epidemic that is only getting worse. And what is that epidemic? We're all sitting down too much.
Many workers spend the majority of their day sitting at a desk or table, often using equipment that has not been ergonomically designed to suit needs. Extended periods of sitting down are proven to affect circulation, joints and posture. The Standee designers have come up with a simple solution – standing up.

Continue reading →
VARIDESK will Change the Way You Work! This height-adjustable desk sits on top of your existing desk and allows you to work comfortably from either a sitting or standing position.
The Pro Plus 36 is sized to accommodate those with multiple-monitor setups or larger workspace needs. The two-tiered design with separate keyboard/mouse deck gives you plenty of room for basics and accessories with the added convenience of never having to move any components when raising or lowering your VARIDESK. Like all VARIDESK models, the Pro Plus 36 features our patented, spring-assisted lift mechanism that allows you to raise and lower it almost effortlessly in just seconds. It can hold up to 35 lbs. with ease and stays sturdy and stable even at its fully extended height. It comes fully assembled and ready to use – just place it on top of your desk and you're ready to work! Improve your health, energy and productivity with VARIDESK!
Continue reading →
Watch the Original Stand Steady® video in this listing to see exactly how it works The Original Stand Steady standing desk (patent pending) is comfortable, affordable, and compatible with your existing desk. Simply place The Stand Steady on top of your existing desk, adjust it to your height, and you are ready to work standing up. It is large enough to hold your monitor, keyboard, mouse, and coffee. Plus, you gain over 3 sq ft because you can put items below it.
As reported in The Wall Street Journal , The New York Times , and The Washington Post , research shows that standing at work has numerous health benefits, including reducing back pain, burning extra calories, and reducing risk of cardiovascular disease and diabetes.
Continue reading →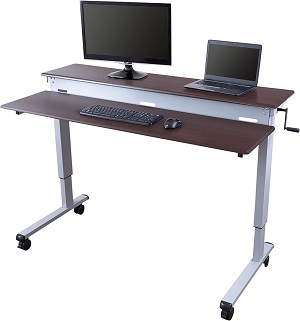 With the innovative sit to stand adjustable crank desk its easy to achieve long lasting health benefits like burning more daily calories, boosted productivity, improved posture and a reduced risk of heart problems. The crank allows for effortless on the fly adjustment from sitting to standing.

The desk's shelves have a generous 59″ wide work surface with a 14″ deep top shelf and a 16″ deep lower shelf. The shelves have 4-5/8″ of separation; this allows for a unique 2-tiered system that puts your monitor and keyboard at the proper separated viewing and working heights. Everything needed for assembly is included. Continue reading →
Get a Muv on and choose to stand with the Muv workstation that adjusts in height from 35" to 49" for stand-up computer work. Overall the workstation is 29 1/2"W x 22"D with a durable 3/4" melamine laminate top worksurface 29 1/2"W x 19 3/4"D. Fully equipped with an adjustable 22 3/4"W x 13 1/2"D keyboard shelf. The keyboard shelf extends 9 3/4" and retracts under the work surface when not in use. Additional 2 lower shelves. Decorative molded side panels hide computer cables and cords for a clean appearance. Steel frame construction with durable powder coat finish. Mobile on four dual wheel carpet casters, 2 locking.