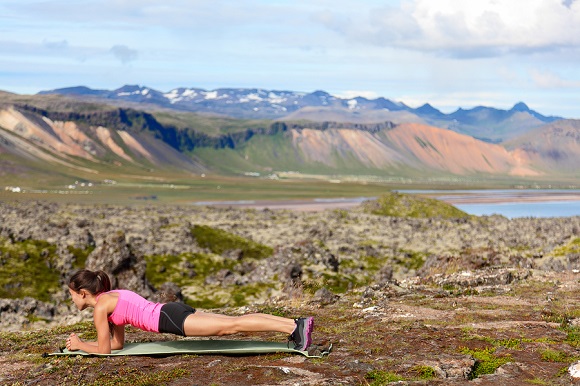 Exercise mats are a great way to get the most out of your workout, without spending a lot of money. A well designed fitness mat will grip the floor, giving you a "no slip" experience. This means that you can focus on your form instead of trying to keep your footing.
Well made exercise mats are also easy to clean, give you a large footprint to work with, and make you look like a pro when you are enjoying yoga, Pilates, bodyweight training or any other type of exercise regimen. Let's take a look at 5 of the bestselling fitness mats you can find online, comparing and contrasting them so you can make the perfect purchasing decisions for your particular situation.
23″ x 70″
Nonslip grip prevents injuries
Self strapping system means easy storage and portability
First and foremost, your fitness mat should have a large enough surface area for your workout. It should also stay put, gripping the floor and your feet. The HemingWeigh Extra Thick Foam Exercise Mat qualifies on both of those important points. Perfect for Pilates, yoga, bodyweight training, stretching and other exercise regimens, this oversized mat is also thicker than most at 5/8″. That thickness, coupled with a special resilient foam design, means your mat never stays compressed, and always returns to its original form after your workout. A built-in Velcro and nylon strapping system is on board for easy carry portability and space-saving storage.
24″ x 71″
Special ribbed gripping surface prevents injuries
Includes integrated carry strap and easy to clean memory foam
At nearly 6 feet in length, the Sivan Health and Fitness 1/2-Inch extra thick yoga and Pilates mat is perfect for all sorts of exercise programs. That thicker than average design means fewer aches and pains in your knees and joints. And the special dual surface construction grips the floor safely, while allowing a comfortable feel to your feet. Unlike some exercise and fitness mats, specially designed memory foam guarantees your mat never stays compressed, while also delivering a comfortable workout. Available in black, red and blue, this popular fitness mat is consistently a top 10 bestseller over at Amazon, where it enjoys a customer satisfaction rating of 4.5 / 5.0 stars.
24″ x 72″
Dual surface design for comfort and no-slip grip
Storage and portability are enhanced with built-in self-grip straps
This foam exercise mat from Valeo is large, comfortable, easy to transport and store, and grips the floor well. It is constructed of high-density, closed cell foam, meaning that it returns to its original shape quickly. This feature also means easy clean up with a damp cloth. Consider it 2 mats in 1 – the specially ribbed surface on the bottom side is perfect for keeping your mat in place. The smooth top surface means a comfortable workout, with enough padding to limit injuries, aches and pains. At 6 feet in length and 2 feet wide, it also provides plenty of space for your workout. Ranking consistently as one of the highest rated fitness mats on all of Amazon, your investment is also significantly lower than many of the other bestsellers.
Yoga Accessories Extra Wide and Extra Long 1/4" Deluxe Yoga Mat
Huge 36″ x 84″
Textured, "no slip" surface
1/4″ thick and totally latex free
If you have ever worked out on a small fitness mat, you know how frustrating it can be. You are consistently overreaching the mat, slipping and sliding on the floor. With the Extra Wide and Extra Long 1/4" Deluxe Yoga Mat from Yoga Accessories that is never a problem. At 3′ x 7′, this is one of the largest, and therefore bestselling, exercise mats you will find anywhere. The price tag is attractive, considering much smaller mats can easily cost more. Available in your choice of black, blue or purple, this extra large mat works perfectly for yoga, Pilates, and other stretching and toning exercises.
24″ x 72″
Non-absorbent shell is easy to clean
Unique "fold in half" design with carrying handles
Everlast has been making quality gymnasium and fitness gear for decades. This 2′ x 6′ folding mat is up to twice as thick as other Pilates and yoga mats. This protects your joints and bones, while the folding design and built-in transportation handles make it easier to transport and than "roll up" mats. There is no wonder the Everlast 2′ x 6′ Folding Mat is one of the highest rated exercise mats (4.7 / 5.0 customer satisfaction stars) on Amazon. Available in your choice of black or blue.