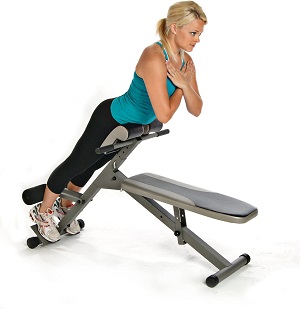 The Stamina Ab/Hyper Bench Pro gives you terrific core strength, ripped abs and powerful back muscles. Work your upper and middle abs in four crunch positions ranging from flat to a 30 degree decline. The pull of a pin quickly and easily adjusts the angle of the bench to increase or decrease your workout intensity.

Target your lower back muscles with standing hyper-extension exercises. The Ab/Hyper Bench's thigh support adjusts to fit your leg length, and the pivoting foam rollers hold your ankles securely so your body is aligned in the correct workout position.
Multiple Exercises
Work your abs with multiple crunch positions, target the lower back with hyper-extensions, or engage the chest with push-ups. Total-body exercise is made simple with the Stamina Ab / Hyper Bench Pro.
Engineered for Results
The Hyper Bench is outfitted with a thickly padded vinyl upholstery, adjustable padded thigh supports, pivoting foam roller ankle supports, textured foot rests and hand grips.
Supported by Smart Audio Coaching
This product includes access to müüv, the app that provides smart audio coaching, a follow-along assembly video, personalized workouts tailored to the equipment you own, and more.
Folding Frame
The heavy-duty frame folds to help you save space.
ASSEMBLED DIMENSIONS: 56 inches long x 27 inches wide x 35 inches high.
.