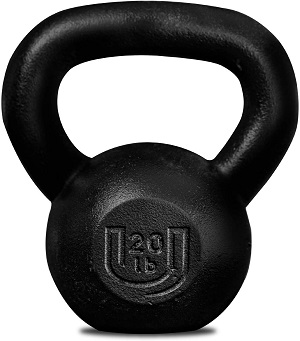 Ditch the vinyl or painted kettlebells and switch up your fitness routine with kettlebells, more versatile than your typical dumbbell set! Unlike cheap kettlebell sets that are mass produced in foreign countries, our set of kettlebell weights are built with you in mind and constructed to survive years of swinging sessions.

All our kettlebells are durably constructed in the USA. These Cast Iron Kettlebells are ground after casting with a wide curved handle design for use with one or both hands. Each kettle is constructed in heavy duty materials in a single piece and undergoes meticulous quality control ensuring only the best gets into your hands.
These kettlebell weights give you ultimate flexibility with a variety of workouts to increase your strength. As you continuously improve your form and strength, you can increase your weight and repetitions. With USA Iron kettlebell weights, you have the ultimate compact solution for you home fitness routines.
Phenomenal Kettlebell Grip
Achieve comfort in your hands while you feel the burn in the rest of your body. Our free weight equipment for men and women have a premium ultra-durable powder coating finish that gives a signature texture to our kettlebells, providing the perfect balance between texture and grip for whatever exercises are in your routine.
Wide Handle Diameter
Our products features a large curved handle providing adequate space for exercises with either 1 or 2 hands. The diameter of the handle increases with the weight of the ball: 34 mm for the 20lb., 35 mm for 25lb. and 37 mm for the 35lb. and 44lb. and 38 mm for the 50lb. for the perfect grip, allowing more exercises to target major muscles groups in all the ways you can imagine!
Various Weights & Sizes
You can choose the weight that best suits your workout routine or your fitness level. Whether you're a beginner, intermediate or advanced fitness enthusiast, our kettlebells are sold individually in 20, 25, 35, 44 and 50 lbs (9kg, 12kg, 16kg, 20kg 23kg) selections to cater for your resistance training needs. Or buy all sizes to create your own USA-Iron weight set.
.