Champion Sports Gel Filled Medicine Ball Set of Five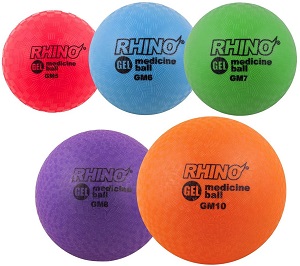 Champion's Gel filled medicine balls are our softest and most pliable medicine ball. Ideal for use with the medicine ball rebounder (sold separately). Special synthetic rubber with stippled cover for enhanced grip and comfort. Gel filling provides added weight and limits bounce characteristics.

Perfect for rehab, strengthening and fitness. Latex-free construction. Set of five medicine balls includes : GM5 Medicine Ball – 2 lbs. / 5″ Diameter, GM6 Medicine Ball – 4 lbs. / 6″ Diameter, GM7 Medicine Ball – 7 lbs. / 7″ Diameter, GM8 Medicine Ball – 11 lbs. / 8.5″ Diameter, GM10 Medicine Ball – 15 lbs. / 10″ Diameter.
Related